This webinar is designed to help 'normalize' the idea of new and used electric vehicle (EV) ownership for women. The setting was informative, casual and fun without getting too far down in the weeds.
Over 30 engaged participants and 4 empowering female speakers joined us for: Women's EV Night.  Our guests helped shed a light on overcoming common barriers to EVs.
You can watch a recording of the Webinar on our Youtube Channel here.
Sincere thanks to our presenters:
Cara Clairman, Chief Executive Officer, Plug'n Drive
Julie Horrocks, eMERGE EV Ambassador
Karen Rathwell, eMERGE EV Ambassador
Sya Van Geest, eMERGE EV Ambassador 
And special thanks also go out to Carol McClellan, eMERGE Board Member and moderator for the evening. We have provided an overview below.
Resources
Here are some resources that can help us all consider buying an EV:
Background
An EV 101 class for women by women.
When it comes to buying an EV, it still appears to be a man's world. In the past, up to 70% of EVs are purchased by men, despite typical car ownership falling along typical gender lines.
We know that more women tend to be early 'environmental adopters' than men. That doesn't appear to be the case when it comes to EVs .
Few of us are experts on EVs. In this webinar, all of our experts are women sharing their experiences and knowledge with EVs.
Over 8,000 new vehicles are sold in Guelph every year, but very few are electric. Every EV that's purchased (instead of a gas or diesel vehicle) reduces greenhouse gas emissions by over 4 tonnes per year. That's massive.
We're bringing together one of the country's leading experts on EVs: Cara Clairman, Chief Executive Officer from Plug'nDrive. She'll be joined by local EV owners, our eMERGE EV Ambassadors. They have made significant contributions in their careers, their impacts on the environment and their families.
By the end of this webinar, we want women to feel more comfortable in taking EV ownership seriously. Consider it an icebreaker.
—————————————————————–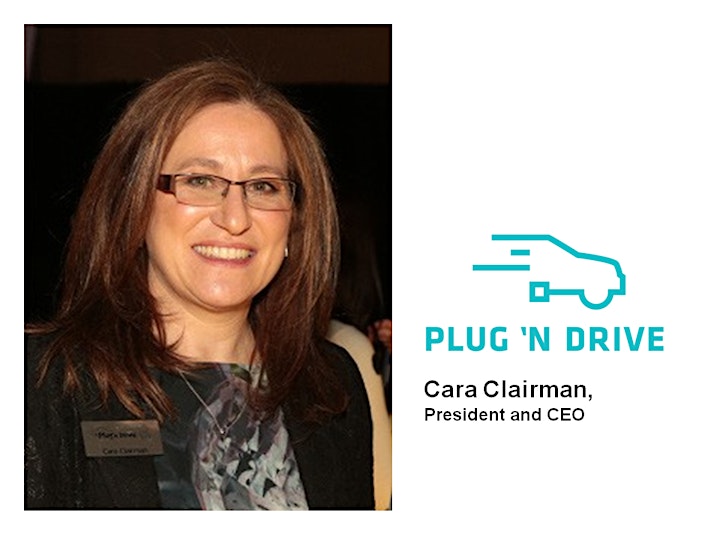 Cara Clairman , CEO of Plug'n Drive
CARA CLAIRMAN is President and CEO of Plug'n Drive, a non-profit that is accelerating the deployment of EVs to maximize their environmental and economic benefits.
Cara has taken Plug'n Drive from an idea to a thriving non-profit, recognized as a leader in the EV space. In 2018 Plug'n Drive's Electric Vehicle Discovery Centre was selected as Canada's 2019 Top Project by the Clean 50 Community.
Cara has more than 20 years of experience working in the environmental and sustainability fields, including 12 years working at Ontario Power Generation, initially as OPG's environmental lawyer and later in the role Vice President of Sustainable Development. Prior to joining OPG, Cara spent five years practicing environmental law with the Torys law firm.
She holds a Bachelor of Laws from Osgoode Hall and a Masters in Environmental Studies from York University, as well as an Honours Bachelor of Science degree from Queen's University.
Cara is the 2017 recipient of the Women in Renewable Energy's 'Woman of the Year' award.
——————–
Our EV Ambassadors:
Sya Van Geest

Karen Rathwell

Julie Horrocks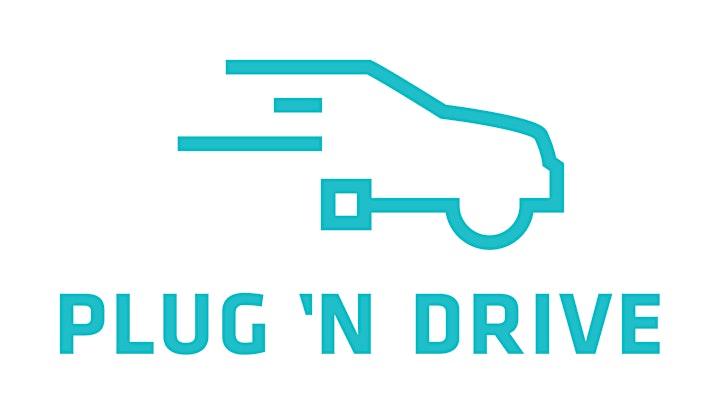 ___________________________________
Why is eMERGE pushing EVs?
There are many ways to fight climate change.
But when it comes to transportation planning our approach at eMERGE is quite clear. Society has to take an approach that prioritizes 1) walking and then 2) cycling followed by 3) electrified public transit and finally 4) electrified personal transportation (cars).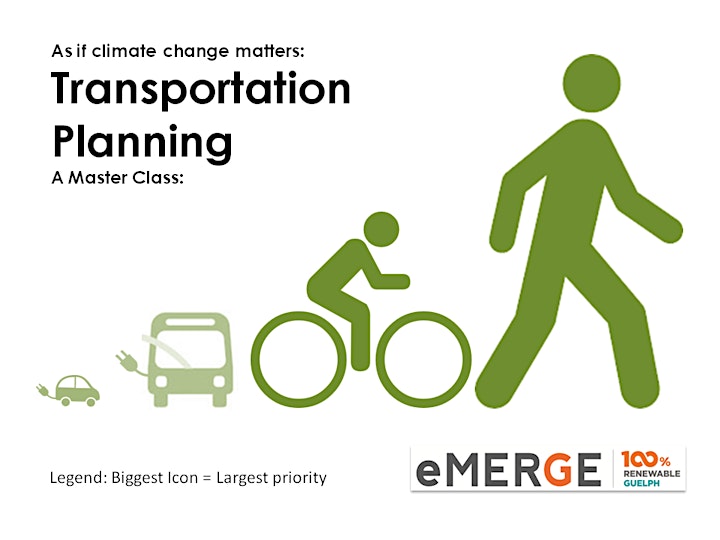 Gas and diesel vehicles have no place in this century. The quicker we can take them off the road the better. Implementing transportation plans takes time and needs to be done properly. While the planning is ongoing, we need to accelerate the switch to EVs.
Over 8,000 new cars are sold in Guelph every year. Getting these car buyers to make the change to an EV gives us results now. Each purchase means that we cut four tonnes of climate change pollution per year. This approach buys us some time to keep pushing the envelope on transportation planning at the same time.